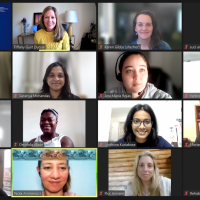 We have currently finished scoring & reviewing all 189 applications and have shortlisted 40 candidates.  We will begin the matching process with our mentors and announce the final selections in mid-September (the Colloquium has delayed us a bit, thanks for your patience!)
ALL CANDIDATES HAVE RECEIVED A NOTIFICATION - be sure to check your email! We still plan to announce all final candidates by mid-September.
Program Information
The mentoring program is a 12-month commitment and includes group and one-on-one mentoring, networking events, trainings, and the opportunity to work on or complete a project or product in collaboration with Cochrane researchers. Additional events and involvement within Cochrane will be offered.  The program is currently 100% virtual.

Please read about Y1 & Y2: https://us.cochrane.org/mentoring & https://us.cochrane.org/news/mentees-year-2-highlights
Eligibility
This program has as a main objective to serve minority, under-resourced, and/or historically discriminated against participants to contribute to Cochrane's goal of improving health equity through access and availability to trusted health evidence for all.  Anyone worldwide is welcome to apply; please expect to attend meetings, events, and trainings during US working hours.
Program Length
12 months; 4-8 hours per month
Requirements
Availability / flexibility during US working hours (approximately 8am – 6pm EST / New York) Find these times in your time zone
Obligatory attendance at monthly meetings with your group and mentor (virtual)
Sufficient English language skills to attend and participate in meetings and trainings (Spanish and other languages maybe be offered depending on mentor availability)
Access to a computer and high-speed internet (program is virtual)
Able to commit to 12 months & monthly time commitment 
Flexibility, professionalism, and enthusiasm
Application Process - JULY 3 - JULY 24, 2023 - CLOSED
To apply please read the instructions carefully and complete an application 
*incomplete applications will not be accepted*
Along with the application, please write a 1-page personal statement, indicating why you want to join the program, why you are eligible, and how it will help your studies or career.  Please send as PDF or DOC to:
paoandrenacci@hotmail.com AND tduque@cochrane.org
Mentee Selection Announcement
Mid-September, 2023
Approximately 20 participants will be selected
Program Start Date
End September, 2023 - dependent on mentor time availability
Questions? Email our program coordinator Paola Andrenacci: paoandrenacci@hotmail.com