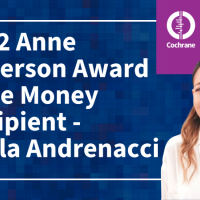 The Anne Anderson Award recognizes a female member of Cochrane who has significantly contributed to the enhancement and visibility of women's participation within Cochrane. The winner then designates the cash award to assist a woman from a low-resource setting with her Cochrane activities. Here is the winner of the 2022 cash award reports back.
The Anne Anderson Award is one of several prizes awarded annually. The goal of the Anne Anderson Award is to recognize and stimulate individuals contributing to the enhancement of women's visibility and participation in Cochrane's leadership. In the footsteps of Anne Anderson, many outstanding women continue to contribute and inspire other women to improve health knowledge for the good of their communities.
The Award recipient receives a plaque from Cochrane honoring her contributions (usually, this would happen at the annual Colloquium). She then designates the cash award of 3000 USD to assist a woman from a low-resource setting with her Cochrane activities, who should eventually provide a brief written report on how the funds have been used.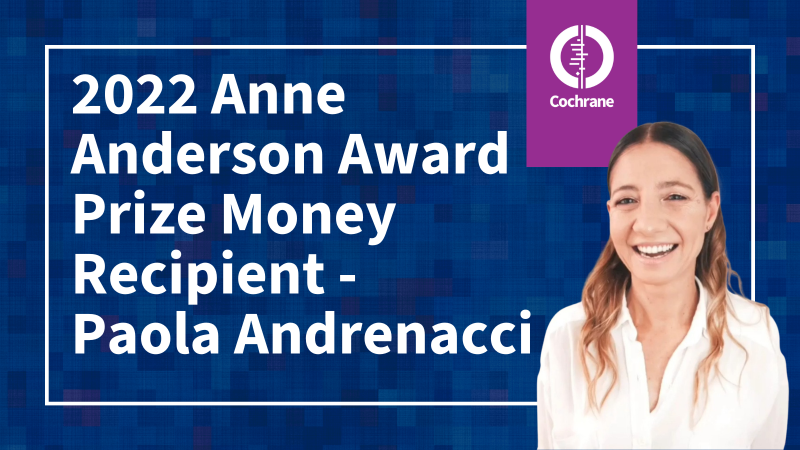 2022 Anne Anderson award winner, Tiffany Duque nominated Paola Andrenacci to receive the award money.
Paola Andrenacci is a Clinical Nutritionist, from  Argentina specializing in liver diseases.
How will receiving the prize money help you personally?
In 2021, I applied to participate in the Cochrane US Mentoring Program which fulfills Cochrane's vision and mission and was selected to be part of Cohort 2 (non-native English speakers) living in low-middle income countries (LMIC). My main interest was to acquire knowledge, develop and improve my skills in evidence-based nutrition, knowledge translation to then share and motivate other colleagues with what I had learned to help make health decisions based on the best quality of evidence.
The Cochrane US Mentoring Program has not only successfully met all of my goals, but has also provided me with incredible training opportunities. I received a full scholarship to attend the WHO/Cochrane/Cornell Summer Institute and completed the training in July 2022.
Being part of the program was certainly a motivation and inspiration for me thanks to the enormous generosity of Tiffany Duque. This allowed me to continue in the program today, being the Year 2 coordinator, and Mentor and Mentee at the same time!
 
What are your future plans?
Without any doubt and reaffirming my commitment, my future plans will be to continue working hard so that the Cochrane US Mentoring Program continues to grow and reach every corner of the world so that students and health professionals have training opportunities and to continue developing the best quality evidence for decision making in health care.
 
What is your message to people thinking about submitting a nomination for the Anne Anderson Award?
It is time to pause to reflect and express gratitude. Nominating Tiffany Duque generated a lot of emotion for me. The Anne Anderson Award recognizes and celebrates women in Cochrane for their cumulative achievement, originality, independence of thought, leadership and inspiration to others within Cochrane and Tiffany meets all of these requirements, as well as being a very generous and warm woman, and provides constant support at every step for the mentees. I am very happy for the recognition of her! The cash prize helps nutritional science professionals like me, who live in low- to middle-income countries, to achieve what is otherwise impossible. I am very grateful to Tiffany Duque for selecting me to receive the cash award this year.