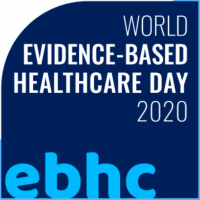 The 1st Annual World Evidence Based Healthcare Day was held October 20th! 
Cochrane, along with global partners including JBI, GIN, Campbell Collab, and Evidence Africa hosted the first virtual day to highlight and advocate for #evidencetoimpact.
You can still see the conversations on twitter using hashtags #evidencetoimpact and #worldEBHCday, plus check out the many events that were hosted around the world: www.worldebhcday.org 
See all Cochrane events and submissions:
https://www.cochrane.org/news/world-evidence-based-healthcare-day-20-october-get-involved 
Check out US Network's Central Michigan University's World EBHC Day Video Submission!
This great video was released through various platforms including the US Network twitter and website, the Cochrane Central twitter, and Cochrane YouTube page.  Make sure to look for it, like it, and share!
https://youtu.be/Oc5PGLoCpDc  
Watch the recording of Cochrane's Editor in Chief Karla Soares, Cochrane's Lisa Bero, and WHO give a World Evidence Based Healthcare Day panel session on COVID19!
https://www.cochrane.org/news/join-cochranes-editor-chief-world-evidence-based-healthcare-day-panel-session
An Instagram Live was hosted by Cochrane Central's Muriah Umoquit
An introduction to evidence-based medicine and Cochrane's work was presented to a parents group, @sick.happens, on Instagram Live, led by Cochrane's Communications and Analytics Officer Muriah Umoquit on @cochraneorg